Welcome to the Town of Little Compton Fire Department. The purpose of this web site is to provide you with general information about our department; provide you with specific information about current issue affecting you and your family; update you about our latest incidents and events; and, give you an opportunity to contact us with any questions or comments you may have.
Our site is not only designed to offer you interesting and educational information, but also to reflect the tremendous pride and spirit within our department. We maintain a great respect for our history, and a strong sense of duty towards excellent performance in the present, and we look forward to meeting the challenges of the future. The Little Compton Fire Department is committed to delivering the highest quality of service to the Town of Little Compton in the most effective, efficient, safest, and professional way possible. The fire department provides services in fire suppression, rescue, fire prevention, fire inspection, emergency medical services, ocean rescues and disaster mitigation to list a few.
Our greatest resource, by far, are the 8 dedicated firefighters that currently make up this great department. The firefighters are committed to protecting the Town of Little Compton 24 hours a day, 365 days a year. The department has one station which houses 5 different pieces of up-to-date, well maintained fire apparatus.
Whether you are a seeking specific information or just browsing, whether you are a concerned citizen of our community, or simply a curious fire buff; we trust you will find this web site helpful and informative. We welcome your questions or comments.
Best regards,
Richard G. Petrin
Chief of Department
Holiday & Christmas Tree Safety Tips

LCFD7, December 05

With the Winter Holiday season upon us, We'd like to pass along some Safety Tips for the season! Below are some to NFPA Safety tips please take the time to look them over!... (Full Story)




**Car seat RECALL**

LCFD7, November 25

Just a few days after having a car seat Safety check event, we've learned that there has been a recall on some Diono, Britax, Harmony Juvenile, and Graco booster seat and car seats. Please take the time to check your car seats and make sure they are not recalled!
Car Seat Safety Check, Monday - 11/19

LCFD7, November 17

On Monday November 19th, we will be holding a Car seat safety check at the Public Safety Complex - 60 Simmons Rd.

We will have dedicated Police and Fire personnel from 10AM to 2 PM to install, check your installation and answer questions regarding car seat safety! Come down and have your car seats checked!... (Full Story & Photos)



Capt Randy Watt, Brian Giorgianni - EMS Coordinator for Southcoast Hospitals Group, Town Council President Robert Mushen (Left to Right)

LifePak Cardiac Monitor Donated By Southcoast Health

LCFD7 , October 24

Little Compton Fire received a new Cardiac Monitor, donated by Southcoast Health. This brand new cardiac monitor replaces our old equipment with new and improved technology. This upgrade allows us to communicate with some area hospitals while treating patients who may be having a serious cardiac event. It expedites the activation of the proper cardiac care teams at the hospitals. It allows them to ... (Full Story & Photos)


Fire Prevention Education at Wilbur McMahon School

LCFD7, October 18

Today we had the pleasure of stopping by and talking with the Pre-K and Kindergartners of Wilbur McMahon School today. It is always fun for use to stop by and educate these little minds on proper fire safety and prevention! Thank you for having us today!... (Full Story & Photos)



FF Condon, FF Cabral, FF Hussey, and Capt. Watt with some of the kids in front of Engine 2.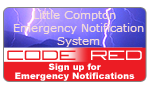 Your feedback is important to us! Feel free to sign the guestbook.