Welcome to the Town of Little Compton Fire Department. The purpose of this web site is to provide you with general information about our department; provide you with specific information about current issue affecting you and your family; update you about our latest incidents and events; and, give you an opportunity to contact us with any questions or comments you may have.
Our site is not only designed to offer you interesting and educational information, but also to reflect the tremendous pride and spirit within our department. We maintain a great respect for our history, and a strong sense of duty towards excellent performance in the present, and we look forward to meeting the challenges of the future. The Little Compton Fire Department is committed to delivering the highest quality of service to the Town of Little Compton in the most effective, efficient, safest, and professional way possible. The fire department provides services in fire suppression, rescue, fire prevention, fire inspection, emergency medical services, ocean rescues and disaster mitigation to list a few.
Our greatest resource, by far, are the 8 dedicated firefighters that currently make up this great department. The firefighters are committed to protecting the Town of Little Compton 24 hours a day, 365 days a year. The department has one station which houses 5 different pieces of up-to-date, well maintained fire apparatus.
Whether you are a seeking specific information or just browsing, whether you are a concerned citizen of our community, or simply a curious fire buff; we trust you will find this web site helpful and informative. We welcome your questions or comments.
Best regards,
Richard G. Petrin
Chief of Department
NEW RI Firefighters Memorial

LCFD7, November 04

Rhode Island was one of only and handful of states left without a Memorial to honor Firefighters who sacrificed theirs lives in the line of duty. On October 26th, a ceremony was held, at the Rhode Island Fire Academy in Exeter, to celebrate the new Firefighters Memorial. This project was spearheaded by the RI Association of Fire Chiefs in collaboration with the RI State Association of Firefighters, ... (Full Story & Photos)



Photo Credit to NKFD

Annual Ladder and Hose Testing

LCFD7, November 04

Last week we had Fail Safe USA come down to conduct the annual testing of our hose lines and ground ladders. This is a required annual recertification to make sure that our equipment meets the proper safety standards. We maintain our equipment thoroughly to make sure we are always ready to go, and have the proper tools to get the job done.... (Full Story & Photos)

Structure Fire - Town Way

LCFD7, October 30

Yesterday At approximately 3:10pm, LCFD was dispatched to an address on Town Way for a reported structure fire. Upon arrival Car 1 called in a confirmed Code Red, on a 2.5 Story Wood Framed house. Smoke showing, fire appears to be in the basement. The Fire was brought under control within about 20-25 minutes of being on scene. A quick attack by the crew had the fire knocked down with tank water. No ... (Full Story & Photos)

Visitors from Wilbur McMahon Pre-K Class

LCFD7, October 18

On Friday we had some visitors from the Pre-K Class from Wilbur McMahon School. They toured the Public Safety Complex, check out the Fire Apparatus and of course got a chance to squirt the fire hose! Thank you for coming by for a visit!... (Full Story & Photos)

Congrats Firefighter Justin Teixeira - RI State Grange Firefighter of the Year 2019

LCFD, September 27

We would like to congratulate Firefighter/Paramedic Justin Teixeira for being recognized as RI State Grange Firefighter of the Year - 2019. Firefighter Teixeira was selected as Little Compton Grange 32 Firefighter of the Year for 2019 earlier in 2019 and was submitted to RI State Grange Firefighter of the Year. He was selected and recognized yesterday at their Annual State Grange Session. Firefighter ... (Full Story & Photos)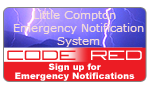 Your feedback is important to us! Feel free to sign the guestbook.